Twelve Days Tour In Georgia (With Svaneti)
1st Day
Arrival in Tbilisi, transfer and placement in hotel
2nd Day
After the breakfast we'll have tour in Tbilisi.
Tbilisi is the capital and the largest city of Georgia. Founded in the 5th century by Vakhtang Gorgasali. Tbilisi is very beautiful city especially at night. You can visit Narikala Fortress and see such kind of fabulous city from there.
Dinner will be in Funicular in the evening. Without boubt, the Funikular Complex is one of the most important place in Tbilisi, with its significant long history dating back to 1905. With a brandnew Funicular train going from Chonkadze Street, one can take a magnificient trip to the Funicular Complex and enjoy dinner with stunning panoramic views over Tbilisi.
Overnight will be in Tbilisi.
3rd Day
After the breakfast we'll go toward Sighnaghi, we'll visit Tsinandali, wine tasting will be in Kisiskhevi.
Sighnaghi is the administrative center of the Sighnaghi Municipality. Also it's known as "City of Love". There is marketplace of the oldest pictures, for ex: Niko Phirosmani and so on.
Tsinandali is a village in Kakheti, noted for the estate and its historic winery which once belonged to the 19th century aristocrat poet Alexander Chavchavadze. It's situated in the district of Telavi.
Kisiskhevi is a village in the Telavi district of Georgia. We can taste delicious wine there.
Dinner and overnight will be in Telavi.
After the breakfast we'll visit Gremi and Alaverdi.
Gremi is a 16th century architectural monument – the royal citadel and the Church of the Archangels in Kakheti, Georgia. There is the prettiest sights over the Alazani Valley.
Alaverdi Cathedral was built in the beginning of the 11th century and was one of the tallest structures of the time. The temple is still called St. George Cathedral.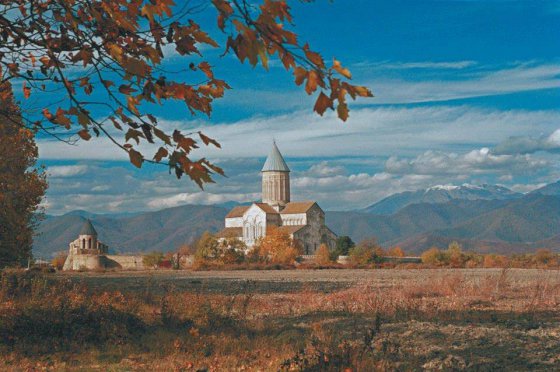 After these sights we'll go toward Tbilisi. We'll have free time, dinner in the evening and overnight in Tbilisi.
5th Day
After the breakfast we'll visit Mtskheta and UNESCO World Heritage's monuments: Jvari Monastery, Svetitskhoveli Monastery.
Mtskheta is one of the oldest city of Georgia. Due to its historical significance and several cultural monuments, the "Historical Monuments of Mtskheta" became UNESCO World Heritage Site in 1994. As the birthplace and one of the most vibrant centres of Christianity in Georgia. Mtskheta was declared as the "Holy City" by the Georgian Orthodox Church in 2014.
We'll visit Jvari Monastery and Svetitskhoveli Monastery in Mtskheta.
Jvari Monastery is a 6th century Georgian Orthodox Monastery. Along with the other historic structures of Mtskheta, it is listed as a World Heritage Site by UNESCO.
Svetitskhoveli Monastery is known as the burial site of Christ's mantle. The present structure was completed in 1029 by the medieval Georgian architect Arsukisdze, also the site itself dates back to the early fourth century. Svetitskhoveli is recognized by UNESCO as a World Heritage Site.
We'll continue our tour toward Akhaltsikhe and visit Borjomi Park.
Akhaltsikhe is a small city in southwestern region of Samtskhe – Javakheti.
Borjomi – Kharagauli National Park is protected area in central Georgia, it's one of the largest national park in Georgia. The park was founded in 1995 and officially inaugurated in 2001. Its particular uniqueness is diversity of geographical and ecological zones, landscapes, historical monuments and rich flora and fauna. The park has rapidly developing tourist infrastructure.
Dinner and overnight will be in Akhaltsikhe.
6th Day
After the breakfast we'll visit Vardzia and Rabati Castle.
Vardzia is a cave monastery in the southern Georgia. Dating to the 1180s during the Golden Age of Queen Tamar and Shota Rustaveli, has an important series of wall paintings.
Rabati Castle is a medieval castle complex in Akhaltsikhe. It was built in the 13th century. It is an amazing castle with its gorgeous sights.
Dinner and overnight will be in Akhaltsikhe.
7th Day
After the breakfast we'll go from Akhaltsikhe to Kutaisi and visit Prometheus Cave.
Prometheus Cave – is located in village Kumistavi ( Tskaltubo Municipality ). The cave was discovered in 1984 and is the biggest cave in Georgia. Visitors are amazed with breathtaking views of stalactites, stalagmites, petrified waterfalls, underground rivers and lakes of the cave. There is 14 degree Celsius temperature inside the cave.
After that we'll see Kutaisis marketplaces. Dinner and overnight will be in Kutaisi.
8th Day
After the breakfast we'll visit Gelati Monastery and Bagrati Cathedral.
Gelati Monastery – A masterpiece of Georgian Golden Age. Gelati was found in 1106 by King David The Builder and is recognized by UNESCO as a World Heritage Site.
Bagrati Cathedral is an 11th century Cathedral in the city of Kutaisi. A masterpiece of the medieval Georgian architecture. Bagrati Cathedral is rcognized by UNESCO as a World Heritage Site.
After that we'll go toward Mestia. We'll have picnic in nature, free time.
Mestia is a highland townlet in the northwest Georgia, at an elevation of 1.500 metres in the Caucasus Mountains. Entire unique medieval architecture of Mestia is among UNESCO world Heritage Site.
Dinner and overnight in Mestia.
9th Day
After the breakfast we'll see Ethnographic Museum in Mestia.
On July 1st 2013 renewed Svaneti Museum of History and Ethnography opened its door for visitors. There are lots of interesting things from the past. Museum has special halls of Christian treasure, where visitors have opportunity to see Icon of the Forty Sebastian Martyrs, jug donated by Queen Tamar and so on.
Next we'll go in Hatsvali by cableway. There is wonderful sights from there. Zuruldi Mountain is 2347metre above the sea level. Hatsvali is ski resort.
Dinner and overnight will be in Mestia.
After the breakfast we'll go to Batumi. We'll have snack in Zugdidi. When we arrive in Batumi, we'll have free time.
Batumi is the second largest city of Georgia, located on the coast of the Black Sea. It's port city, too. It's capital of the Georgian Republic of Adjara. It's especially beautiful at night.
Dinner and overnight will be in Batumi.
11th Day
After the breakfast we'll visit Botanical Garden, Gonio Fortress. In our free time we can walk in Boulevard.
Gonio Fortress is a Roman fortification in Adjara, on the Black sea, at the mouth of the Chorokhi River. The village sits 4km north of the Turkish border.
North of the city, the vast Batumi Botanical Garden showcases flora from around the world. The garden consists of nine floristic sectors, those of Caucasian humid subtropics. East Asia, New Zeland, South America, the Himalayas, Mexico, Australia and of the Mediterranean.
Batumi Boulevard has reached a length of around 7 kilometres and is approximately divided into new and old boulevards. The original and beautiful park is still here, with the addition of modern sculptures, benches and fountains.
Dinner and overnight will be in Batumi.
12th Day
In the morning we'll have breakfast and then transfer in Kutaisi International Airport.
Contact us about this tour
Share: